Before we start...
Hi everyone, this reflection will be longer than the previous ones I wrote. This reflection took quite a lot of time for me to finally do it. I already had the idea to write about my experience of living during a pandemic since June 2020. I originally planned to start writing this reflection beginning of January 2021 but with my graduate visa application (which took a bit longer than expected), job hunting and other commitments I had, I only started this reflection mid-February.
Disclaimer!!! I would like everyone who is reading this to be aware that this reflection is based on my own experience as an international student. Not all international students had the same challenges as I did. Not all international students had the same support system that I had. Thank you!
January 2020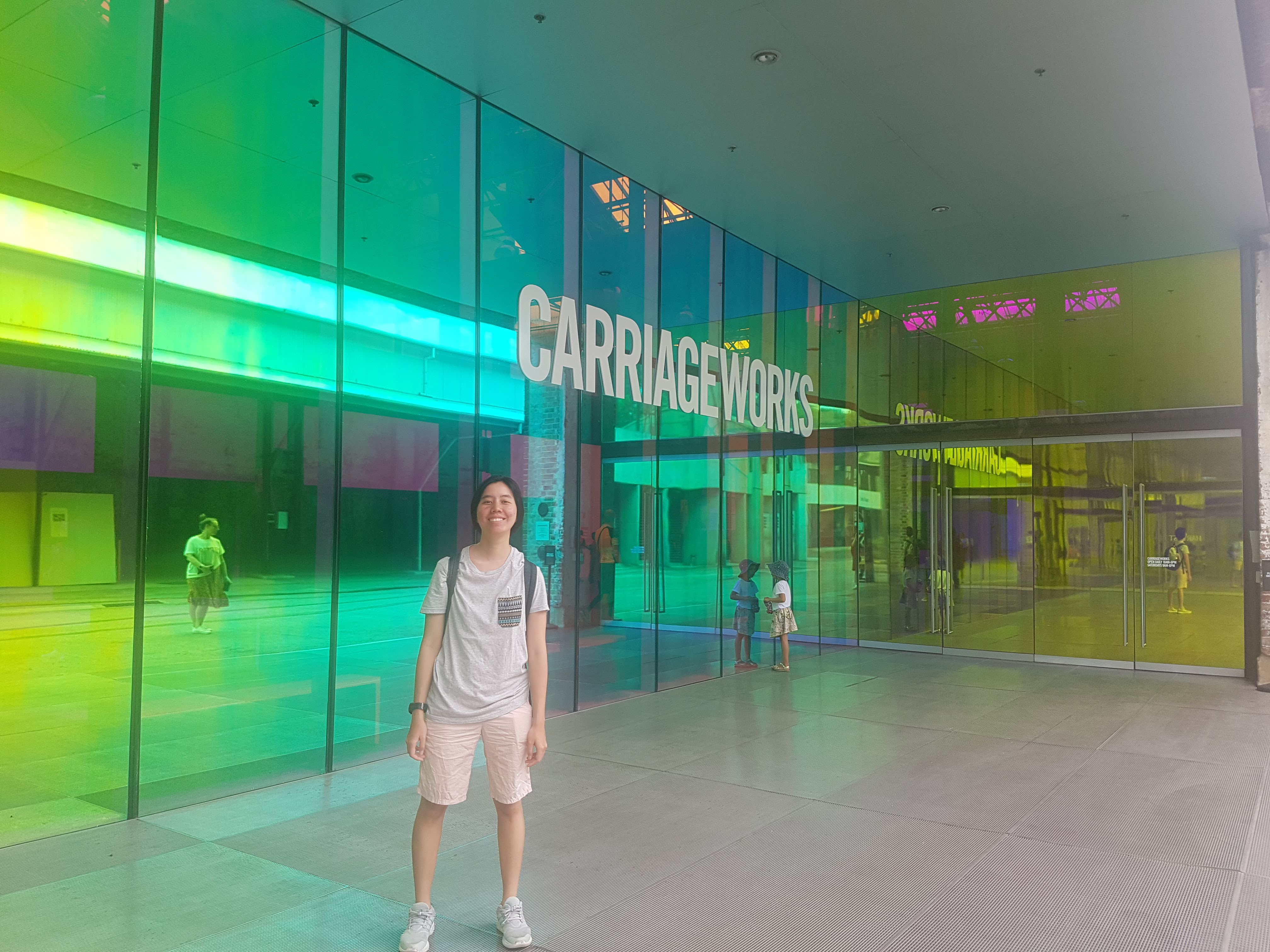 At the beginning of the year, I was in Sydney, spending the holidays with some of my relatives there. In my suitcase, the usual things I bring with me: clothes, hygiene products, passport, and gifts for the relatives. What was unusual were face masks. Not because of the pandemic as some of you might think, but because of the bush fires. New South Wales was one of the states that were experiencing devastating bush fires which were and still are an ecological catastrophe. People had been displaced because of the fires and had to rebuild their life.
My trip to Sydney was for about two weeks, enough time to visit the main tourist attractions, some art galleries and exhibitions. I met for the first time some distant relatives and spent time with family. There were of course some places I could not go as it was advised not to visit because of the fires.
After my trip to Sydney, I was back in Melbourne. I was happy that I had already found a new place to live before the end of 2019. This was my fourth time changing accommodation. I did not mind moving. I enjoy the change and this time, I was going to live alone (the other previous 3 times, I always had housemates). It was a studio apartment, in the middle of Melbourne CBD. It was a very convenient location, one block away from the RMIT City Campus, two supermarkets nearby and lots of Asian groceries around. I even had a balcony which I was pretty excited about!
February 2020
Things were getting worse in China. More people were getting infected by Covid-19. Some of my Chinese friends who went back home for the Chinese New Year were trying to find ways to return to Australia as soon as possible. People had a feeling that international borders were going to close.
From Mauritius, my parents were sending in the family group chat daily updates of what was happening, telling us the kids to be careful and to take precautions. Here in Melbourne, I was not feeling as alarmed, I supposed like many people in Melbourne, the virus did not seem like a threat yet. Things were pretty normal. The semester was going to start, classes were going to be face-to-face, as usual.
I was in my final year of university and I was going to start my honours project. At that time, I was waiting to know who was going to be my supervisor and who would be in my group. As an organised person (when it comes to work, not my room), I knew what will be the topic of my project: International students' wellbeing. I had already approached an organisation, VicWISE to support my project since end of last year as I heard that if I had to do an ethic application, this would take time, lots of time. I was prepared mentally to do this honours project, even if I felt uncertain about unexpected events and my self-confidence was not always there. It will be fine, believe in yourself and do not forget you have people to help you in this journey I told myself while thinking of what Lilly Singh would say in moments of self-doubts.
March 2020
Covid-19 was declared a pandemic. The Australian Borders were closing and restrictions were being imposed. Some people were panicking, some were afraid, others were angry. We only had two or three weeks of face-to-face classes. Classes were now going to be online. I told myself "it's going to be alright. I do not have any classes or studios that required the workshops so far and the restrictions are not so bad (Restrictions were about the number of people gathering indoors)."
As the number of cases were growing in the state of Victoria, more restrictions were now in place. More and more people were now panic-buying. In both supermarkets that were near my place, aisles were empty. How many toilet papers can people keep in their house? Apparently more than we thought. I was running out of rice. As a typical "Chinese lady" as my parents would say, I need to eat rice almost every day (I'm doing better now. Too much carbs is not good xD). It was a challenge to find rice. No rice in supermarkets. No rice in the Asian groceries that I typically go to. Fortunately I was able to find some rice in a small shop in China Town.
With the pandemic getting worst, I soon realise some of my plans for 2020 were not going to happen. I looked at my 2020 vision board. There were pictures of travelling for example, this will have to wait. My parents and sisters won't be able to come for my graduation. Would there be a graduation in the first place? I was not very optimistic. In terms of my honours project, I wanted to organise more face-to-face sessions with VicWISE (the organisation that was supporting me). This will have to be online. What about tuition fees, rent, daily expenses? Will tuition fees be lowered because it was now online? I was reading posts on student pages, a lot of us, especially international students were asking about it. International students came to Australia to EXPERIENCE the life here, not just to study. Studying online was definitely not something we signed up for.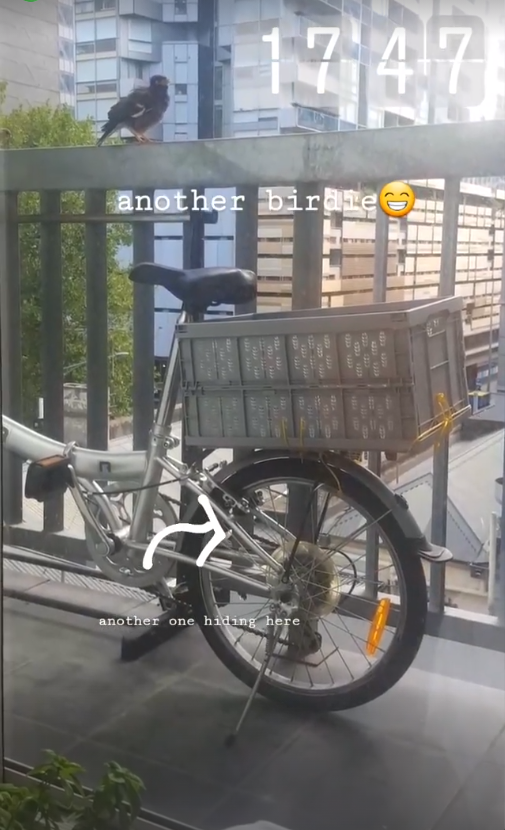 Despite all these bad news and uncertainty, I was among the fortunate and lucky ones. I was safe in my studio apartment. I did not have to travel a lot to go to the supermarket. My relatives who lived in a suburb told me I could move with them if I wanted to (but I felt there was no need for me to move. I could manage living alone and also I think this environment would be better in terms of focusing on my honours project). I had some close friends and people contacted me to let them know if I needed anything to not hesitate to contact them. I had a good support network around me.
Back in Mauritius, the first cases were recorded. The borders were immediately closed. Essential services were the only ones operating. There were stricter rules there. Not all grocery stores were allowed to be opened at the beginning and people had designated days when they were allowed to go shopping (based on the alphabetical order of family name). My parents' shop was not among the few shops allowed to be opened at the beginning. After getting the permits and other documents sorted, our family shop was back in operation. Now the fear of catching the virus was now in the back of our mind. My parents were sending us pictures of all the sanitary measures that were in place in the shop. There were policemen at the entrance to make sure customers were queueing up and following the rules. Only a handful customers were allowed to come in at a time (our family shop is not like those big supermarkets). I was relieved to see that these measures were being taken and also my grandmother was not working in the shop.
I decided to mute all social media and messaging app notifications on my phone. Too much distractions. Too many things happening online. Of course there were a few apps notification like Email and Slack that were still on. Breathe.
April 2020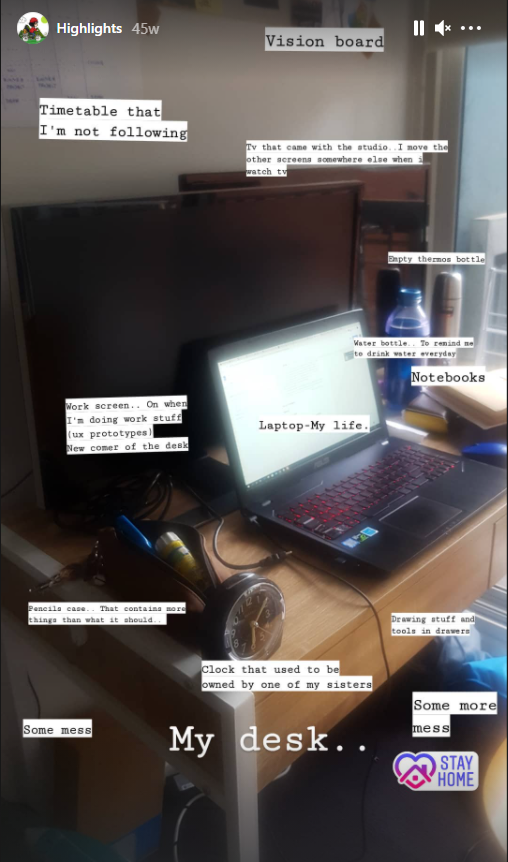 I was managing university well, I suppose? Using Microsoft Teams (RMIT does not have Zoom) was… okay. I was doing as much research as I could online. I had a list of articles I had to go through. That semester, I had also had another class. The lectures were pre-recorded. I told myself I will watch the videos later. So far, I knew that I was going to meet the submission deadlines.
Apart from studying, a big part of my time were spent in volunteering. I was volunteering in two not-for-profits, Story Is Connection (SIC) and VicWISE. At VicWISE, we were facing lots of challenges. Most of our volunteers were international students and some were facing difficulties during these hard times. We had volunteers who unfortunately had to step down. But we were also lucky to see new students who wanted to help others. There were lots of internal restructuring to do not only because we had a new team but also now we had to move our operations fully online. I was part of the team to help this transition. Challenge accepted!
At Story IS Connection, moving to the virtual space was also crucial. We no longer could do face-to-face workshops and performances. We were fortunate to receive a grant (Covid-19 Arts Grant) from the City of Melbourne for a unique project. Something that at SIC we never did. We were going to create a short film about international students' life during the lockdown. Everything will be done virtually through Zoom. Our team was working hard to recruit students who wanted to share their stories, coordinate with our directors the individual sessions and planning for the live stream event. We had new volunteers to join our team which really helped us! This project, the LIMBO Project was very important to us. With a lot of hate (especially towards Asians), international students losing jobs, feeling isolated, and careless, harmful statements like the one that the Australian Prime Minister made, we knew that there was a need to show international students' stories and experiences of Covid-19. To show that international students are here and need support during these hard times. By the way did I say I was going to be one of the participants?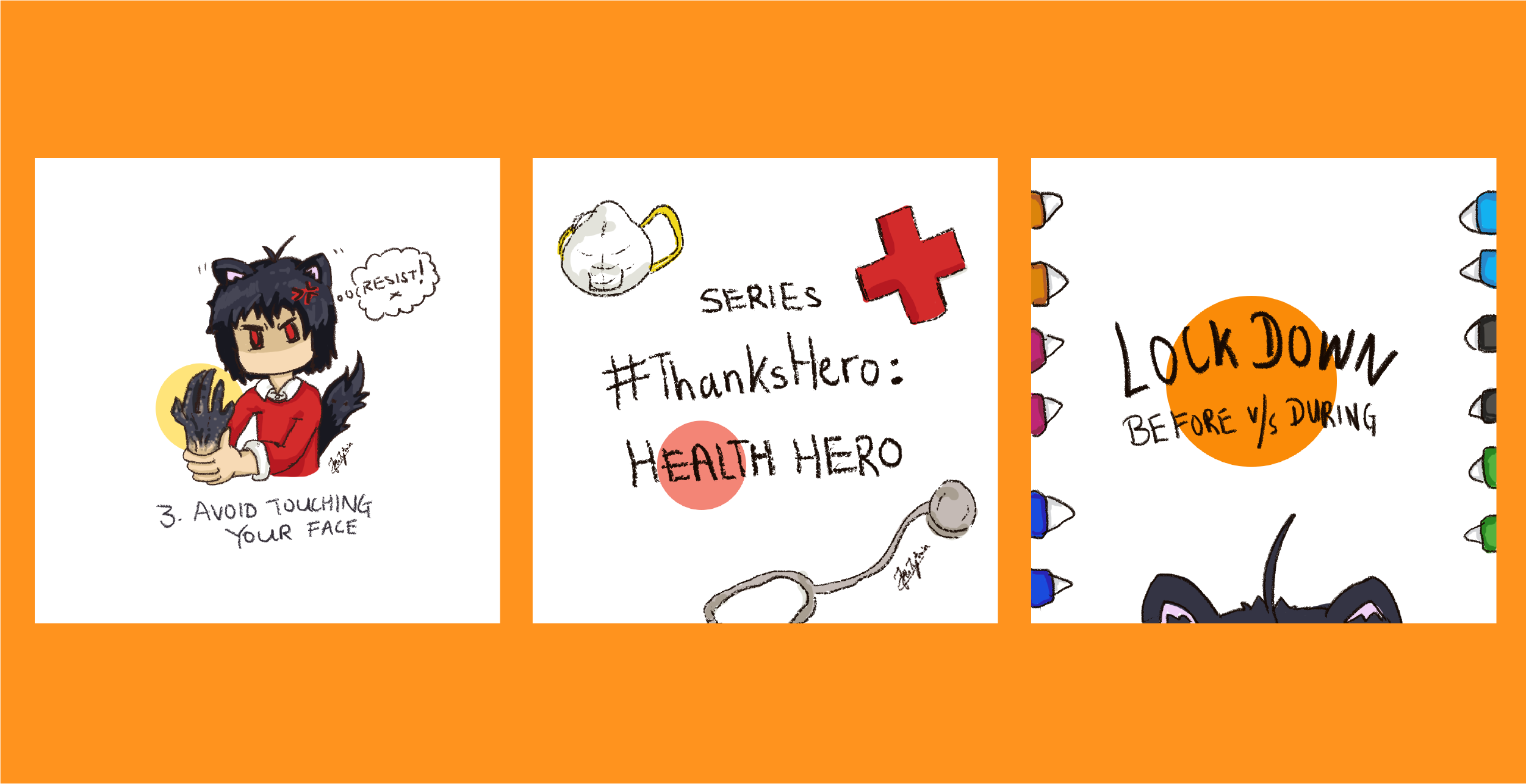 I started getting inspired to do some drawings based on my lockdown experience. When I was kid, I wanted to do lots of things in the future and becoming a cartoonist was one of them. For this short series of drawings, I decided to create my own character Chibi Jul. There were 3 different series I started: "How to stop the spread", "Lockdown: Before Vs During", "#ThanksHero". I was able to express my thoughts through these illustrations and it was a nice way to relax and take a break from studying, freelancing and volunteering.
May 2020
I was feeling stressed with the final presentations coming up. Some people would not believe that as they see me as a pretty chill person. Well I can appear calm from the outside, but I am stressing inside xD. I still had some chapters in my report that I had to adjust and finish. I was praying that my internet connection would not fail me and that my submission was going to be uploaded on time and the online presentation would go smoothly. I tried not to think too much about next semester which would again be fully online. The key word here is "tried".
At VicWISE, we were now organising more and more webinars. The team adapted to the change and we were still working on other processes to improve the communication channels and helping new volunteers to learn about the organisation and how we work. There were a lot of students VicWISE was helping in the background such as directing students to other services where they can find additional free support. We had a team that were creating a list of food support that international students could go to. The new website team was working on a new VicWISE website.
From time to time, I would get a freelance design job to do. Not a lot but enough to keep my mind off uni and volunteering. I was also pretty excited to be involved in this interesting project (can't share too much details but you can follow The Common Purpose Collective and you will be among the first ones to be aware once things will be announced!) through freelancing.
June 2020
Two international students were attacked in Melbourne, 2 blocks away where I lived. Hate crimes and racism towards foreigners, especially those from an Asian background was increasing. What can be done? I don't have the answer…
Semester 1 was done. That was quick as well as slow? I felt like a lot of things had happened and at the same time not much had been done. My studio apartment was somewhat divided in my mind. During those past months, I had slowly but eventually find a routine. Start the day with Mauritian tea and a light breakfast (either oats or some PB&J toast). Put on my "work" clothes even though I was staying indoors as this helped my mind to shift to work/study mode. I made sure that I had a set time to have lunch and breaks. Going out a few times a week to do my grocery shopping and daily warmups are my regular physical exercise (most people would say this is not enough… oh well). Watching YouTube videos and documentaries to relax. Trying not to snack too much. "Mass-cooking" (P.S mass-cooking in my definition means cooking in bulk, cooking a few meals in one go) to save time, much to my mum's disappointment.
I now had more regular family video calls compared to before the pandemic. We are a family that usually communicates through texting as arranging a video call requires a lot of time zone calculation and planning (our family members were spread out around the globe). But like many people, zoom calls have become a thing. Our family did not video call weekly which I do not expect but it was more than twice a year this time xD. We still texted of course.
I also was having more regular catch ups with friends who were not in Australia. I had weekly catch up with a friend. We talked and shared things that were happening in our life. Serious things, small things, anything.

The LIMBO Project was going well, individual interviews were almost done and the film editing was going to start soon. We were organising as best as we could online game nights with the participants. Well online game nights showed that I was still awkward in casual social settings. But it was fun, meeting new people, not too overwhelming and we had a few social butterfly in our group to avoid the awkward silence.
That month, I was also participating in a competition with some friends. It was the Sustainable Futures Competition. We had to attend workshops, mentoring sessions, group meetings and propose a solution to the design challenge. You can learn more about the project here.
July 2020
Semester two started, still online. Things were getting more and more hectic. Some of my friends in ID had decided to postpone their honours year because of the pandemic. For those who decided to continue, the uncertainty and stress was increasing. Would those of us who needed workshop access get it? Would the submission deadlines change? What should exactly be in the final report? Ethics of the projects? How would the final presentation happen? All these questions were appearing and reappearing. I tried to focus on what I had to do (writing the next chapters of my report and figuring out how I was going to survive this last semester) and just embrace this uncertainty. Again, the key word is "tried".
Melbourne was in lockdown again. It was the second time and it would last longer than the previous one. To me it seemed to have just been an extension of the first lockdown. I asked for a rent reduction, explaining how Covid-19 has slowed down business back home. The owner was quite understanding and I got a reduction for a few months. Not all of my friends were as lucky. Some were still trying to get a response from their landlord. Some of them had to pay more as their housemates were not able to come back to Melbourne. There were lots of international students who were applying for the few Covid-19 relief that were available to temporary visa holders. How to show proof that you lost your job when you were being paid cash in hands? How long do students have to wait to know if they were successful in getting the relief?
My student visa was expiring soon and I was able to submit my application for a new student visa. I received the new visa within one day. Relief.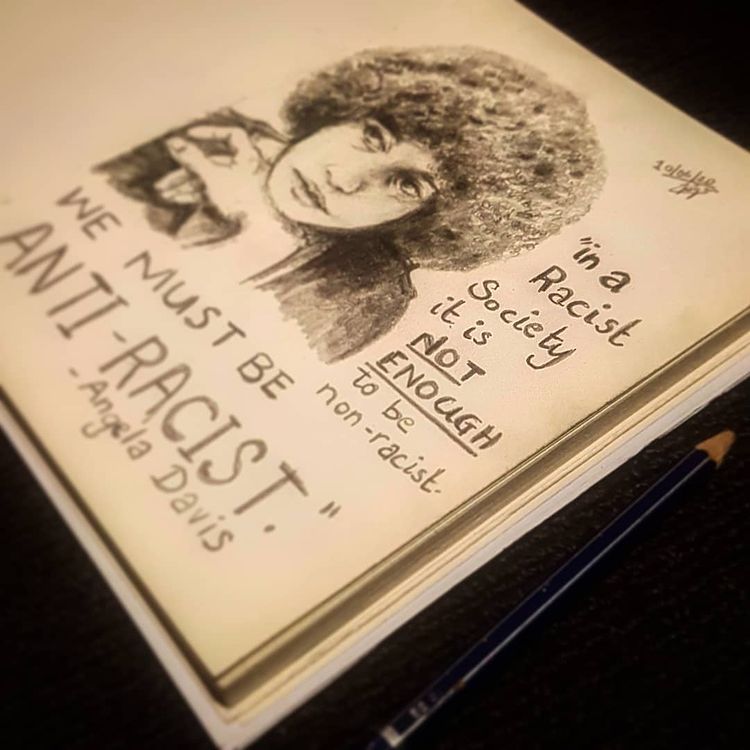 Black Lives Matter! Police Brutality was again in the news. This time, the rest of world reacted more to this tragedy, despite Covid-19 still being a danger. There were protests happening everywhere, on the streets (ignoring gathering restrictions) as well as online. Like many people, this made me reflect on the racism, systemic racism that is happening in my own country and how I myself had to check-in on my own racial bias.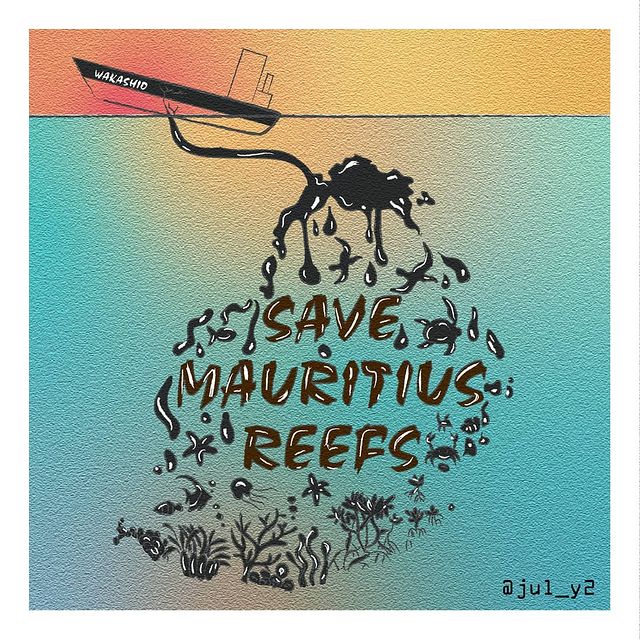 As if we did not have enough bad news, back in Mauritius, the Wakashio Oil Spill was happening. How did that happen? What was the Mauritian government doing? The people of Mauritius were doing their best to take actions, helping NGOs, giving a hand wherever they can to contain the oil spill. Like many Mauritians who were living abroad, I immediately wanted to find ways to help. Be and stay informed about the situation! Spread the word! Share links where people can donate to support the NGOs! Talk about it! Raise awareness!
August 2020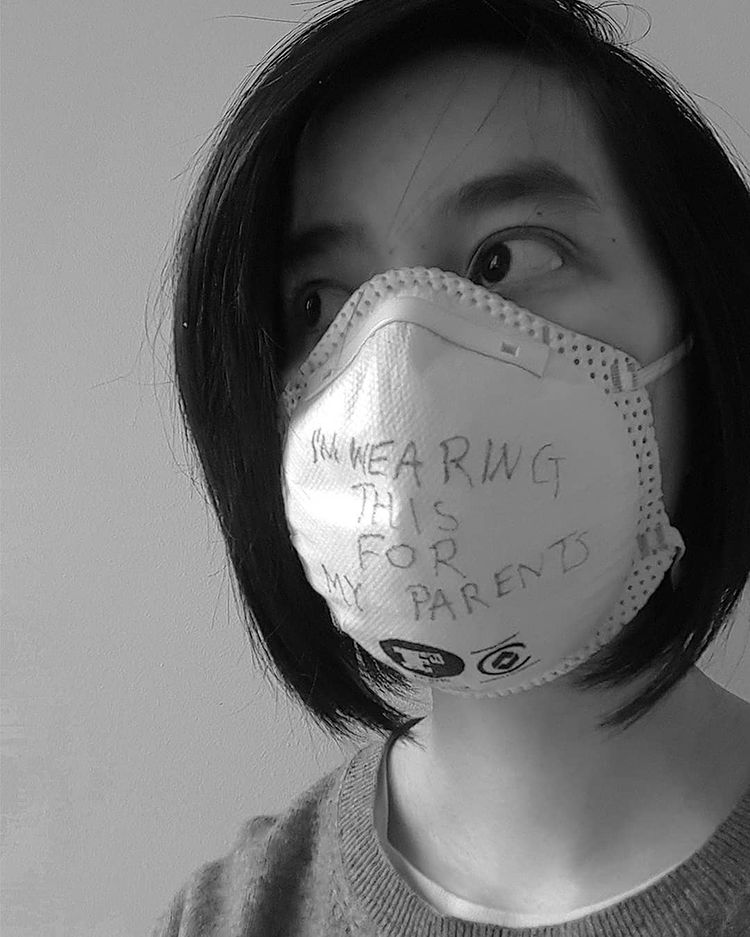 I went out to donate blood for the third time that year. There was a blood donation centre in the city on Collins Street. Despite Covid-19 still ever present, I wanted to donate since I was healthy and could do it. I trusted that the Red Cross had all the safety measures in place at the centre. I had my temperature check, answered the questionnaire, and wore a mask during the whole process. Everything went well.
At SIC, we were all busy in finalising the LIMBO Film and preparing for the premier of the short film. Our weekly meetings were still happening. We were trying to work out the best way to live stream the event. Which social media platform would have the widest reach? Who would be in charge of logistics? Were we able to confirm the guest speakers and participants' attendance?
I started doubting the direction that I was taking for my honours project? Was it enough? Should I think of something else? It was not the first time that this small voice at the back of my mind appeared. But it was fine. My supervisor and group were there. Thank you!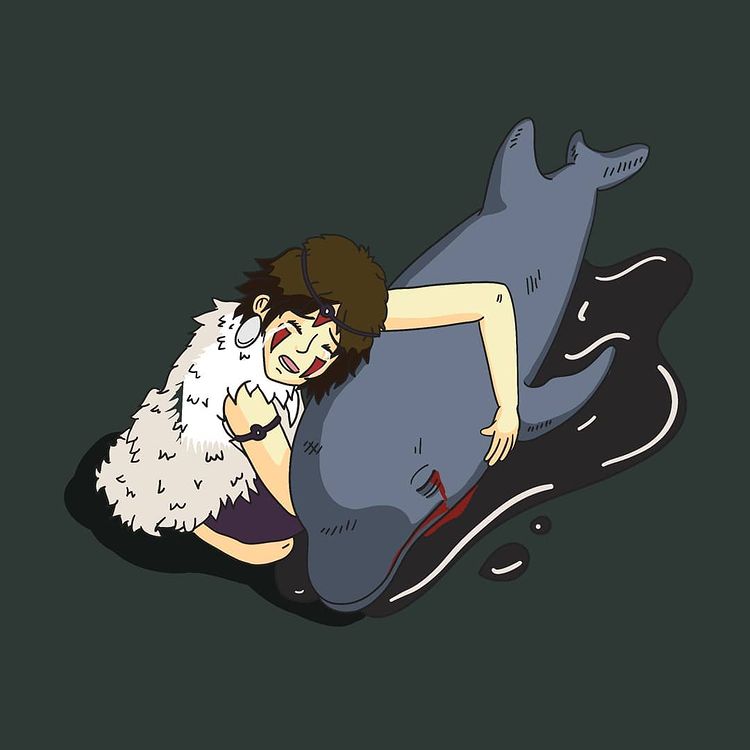 People were getting angrier back in Mauritius. The government could have intervened much quicker. The ship has broken into two. At least 39 dolphins were found dead. Peaceful civilian protests were happening. More transparency about the investigation!
September 2020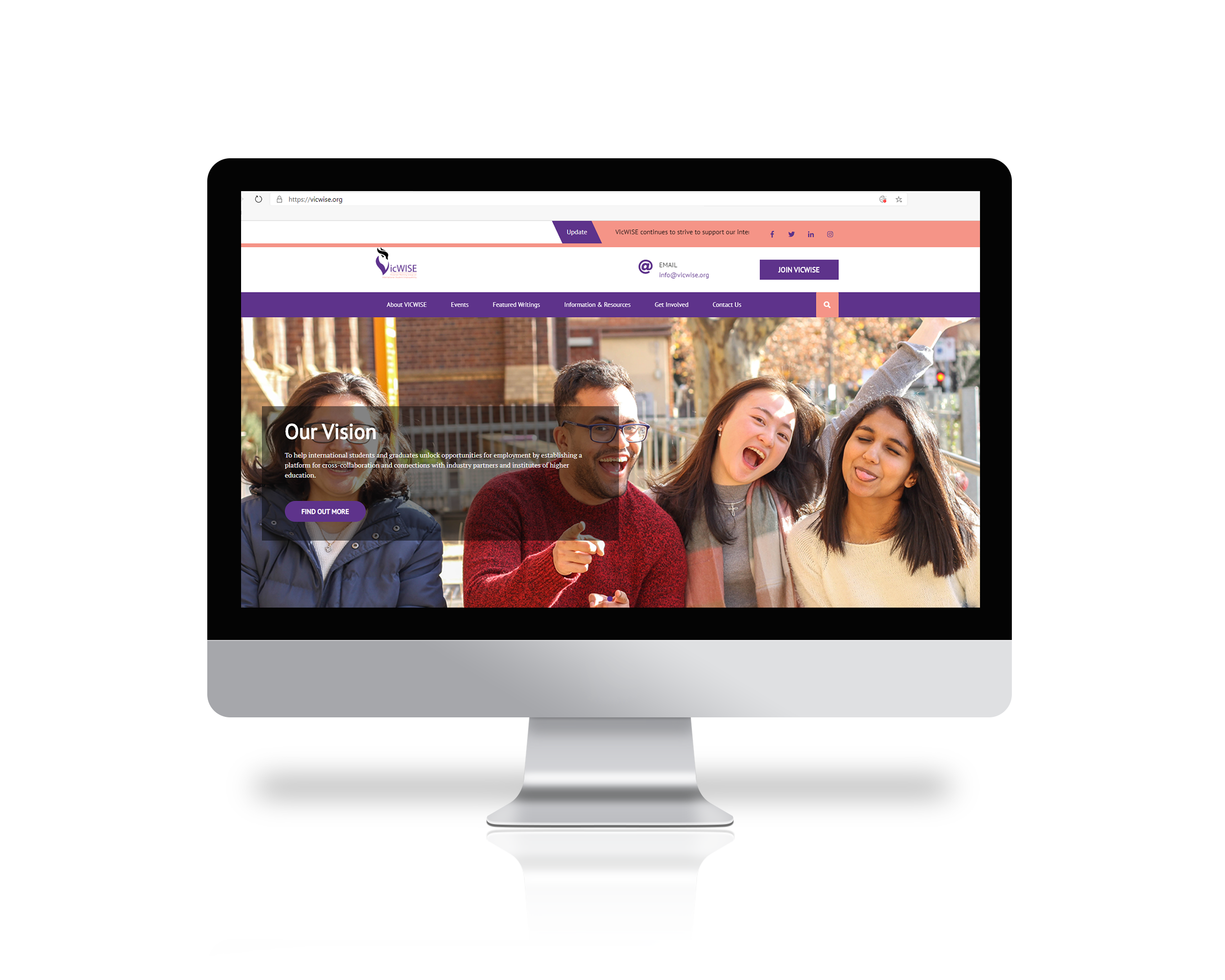 The new VicWISE website was now live! There were still some things to fix and review but it was now live!
Half of the year has already passed. I still had a few months before graduation. I have started to apply for grads positions, internships, jobs for 2021. It was tough. Almost all the design internships and grads positions I found only accept Australian citizens and permanent residents. I did not lose hope, still looking for companies who were willing to accept international students. I started thinking about looking outside of Australia as well, to have more options. Waiting for the handful I was eligible to apply to provide a response. Don't give up!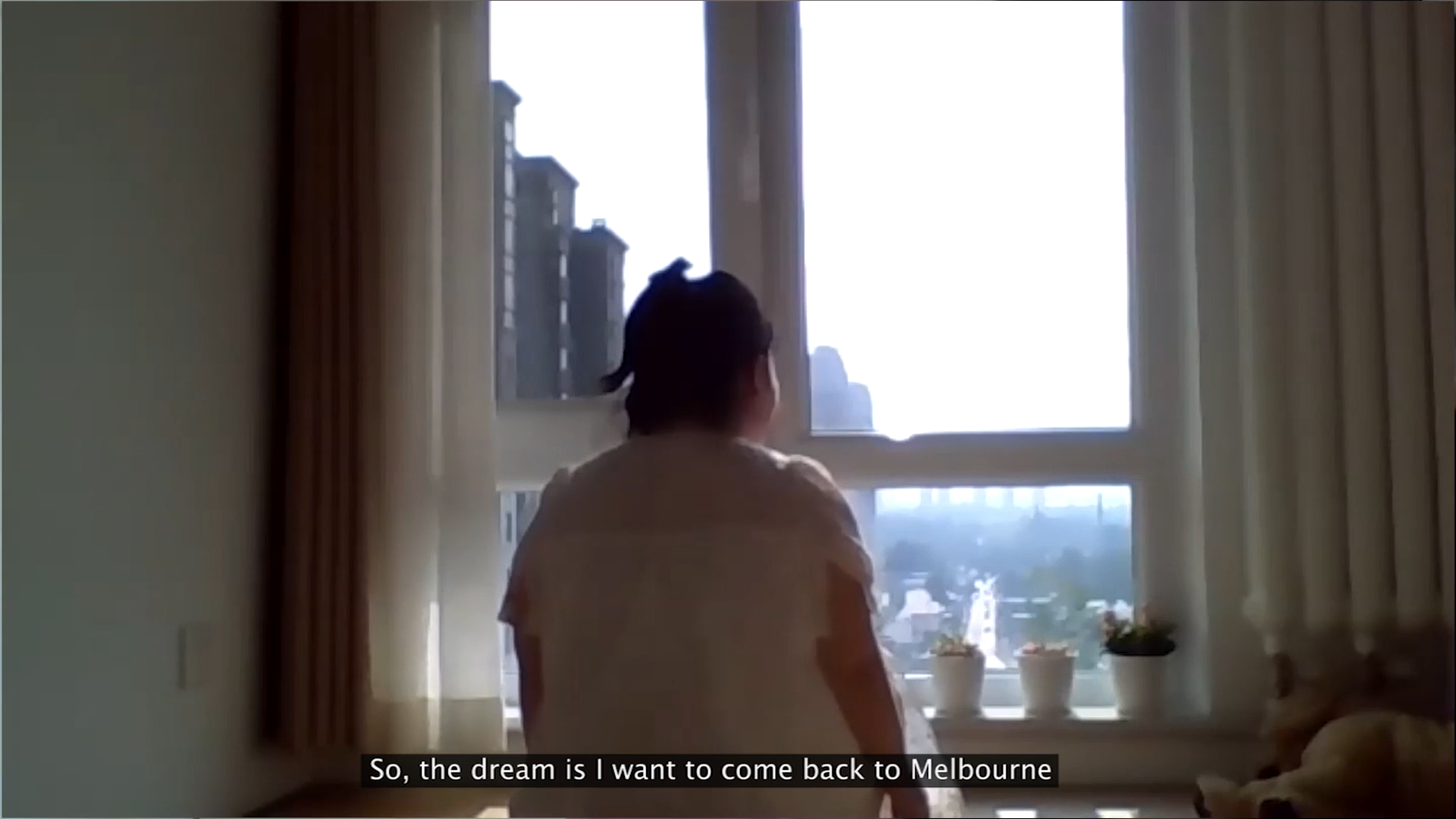 The LIMBO Film launch was a success! A lot of people attended the event and we were getting some people interested to participate or collaborate. This was good news not only for our organisation but also for the international student community. People were listening. We need to amplify international students' voices! We were going to start another project soon… CONNECT! Workshops supported by the City of Melbourne.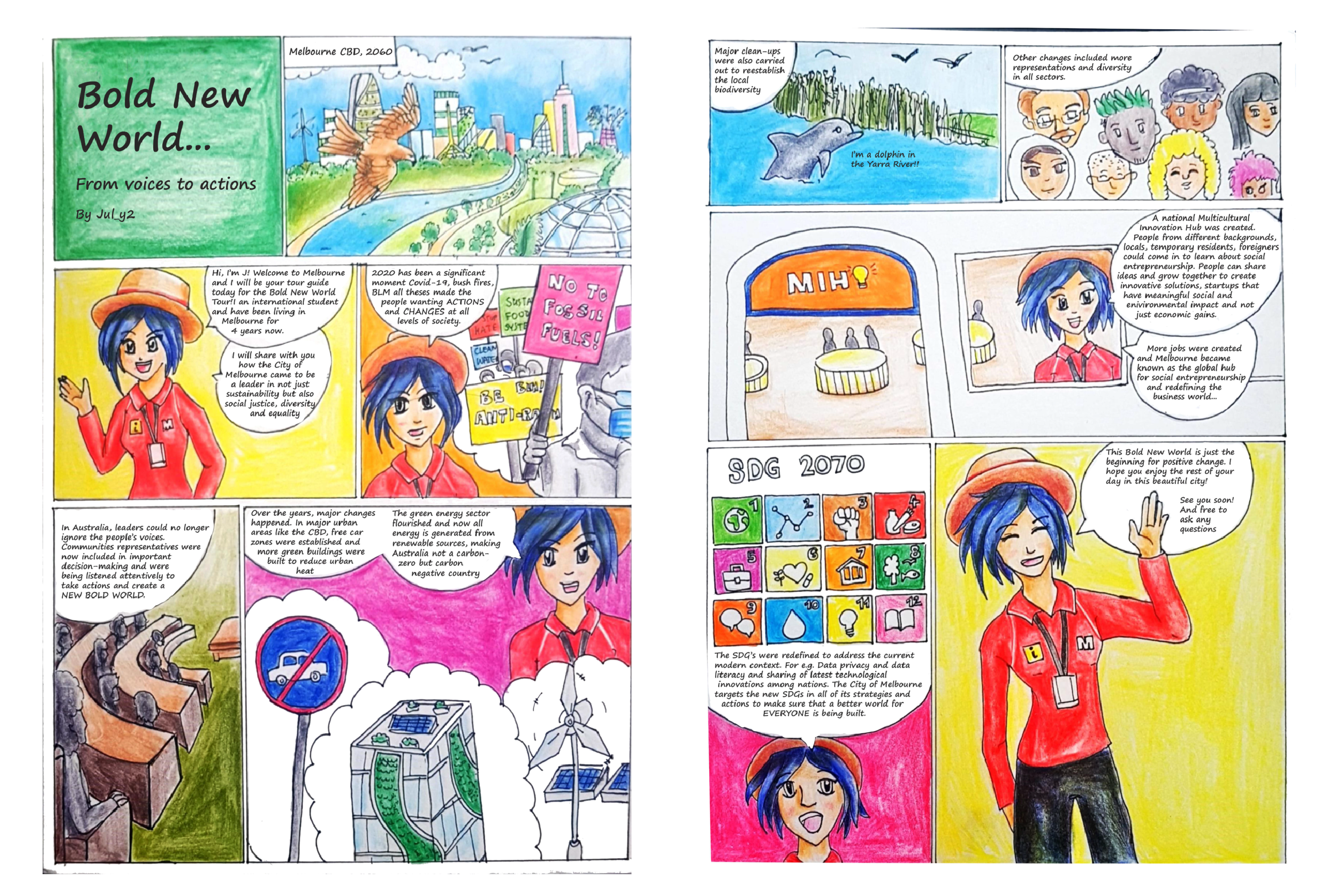 I was happy! Got some amazing news! I was the winner for the Melbourne Writers Festival, "A Bold New World", category visual. To be honest, it was a last minute decision to participate in this competition. I only had three days before the deadline to submit something. The online event for the public announcement would be next month. No regrets!
October 2020
Zero new cases were recorded in Victoria. The lockdown restrictions were being reduced.
Only a few weeks before the final presentation and submission. I was doing my best to follow the timetable I had, but as usual, I could not. I was working on the most urgent things first like the prototype. Without the prototype, I could not finish my report/book, I could not complete the presentation slides, I could not do the video. Breathe, Relax, Focus Juliet! You can do it!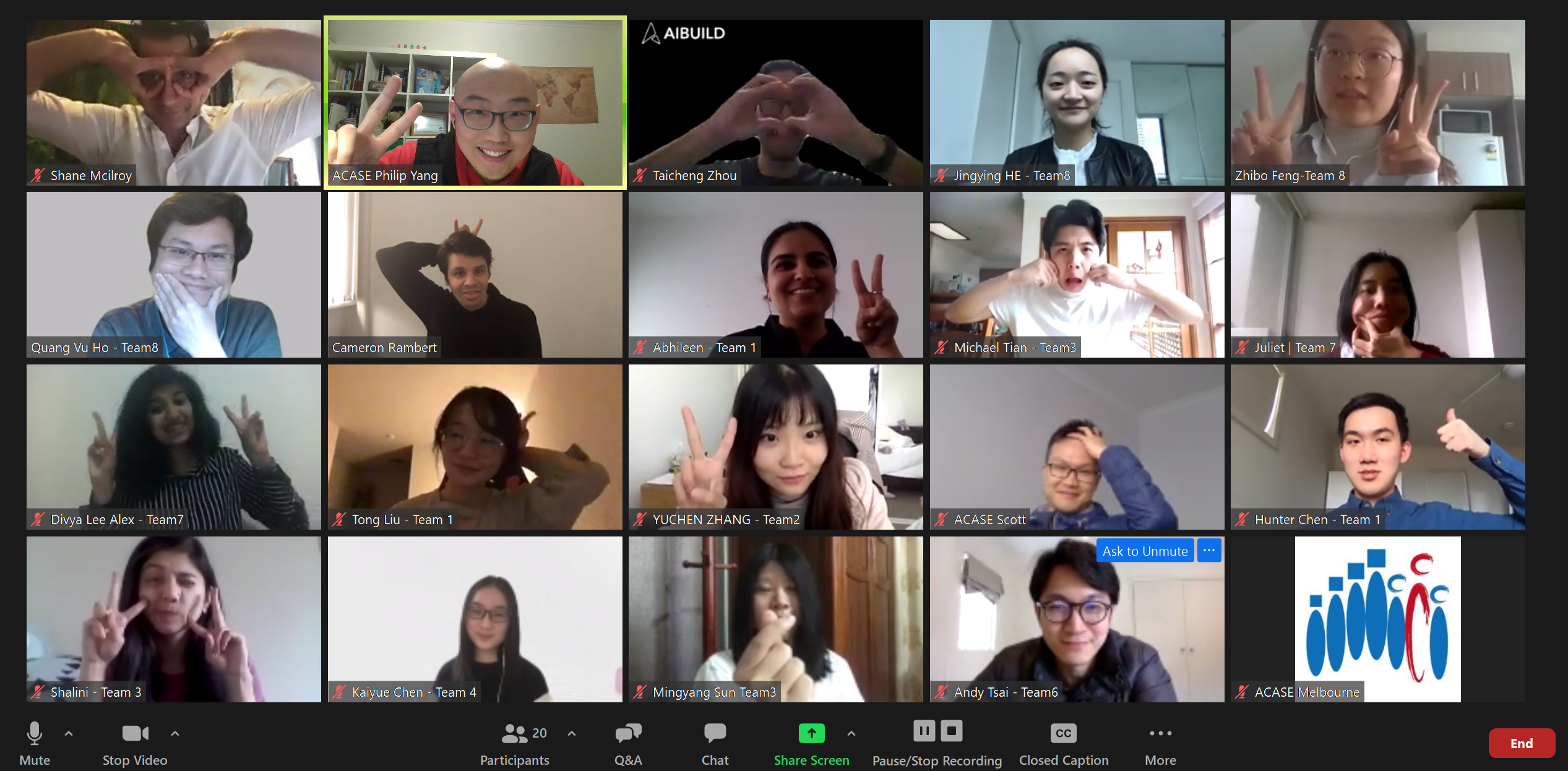 Despite being busy with university, I could not help myself but join the Nexstar Indonesia Sprint. It was not going to take a lot of my time I told myself. This was an opportunity to meet new people, network and help a start-up company. Despite our team going over the time limit for the pitch, we were the winner of the sprint! Woah, I did not expect that! Grateful to have been part of Team 7 and working on E Agri.
We had two more Connect! Workshops left. I was very happy to see previous participants and new students in the workshops. It was interesting to see how the online workshops were been created. People were using the screen and what they have at home to creatively share their story.
Coding has always fascinated me. On my vision board, I wanted to invest some of my time in learning how to code and this is how I ended enrolling in an online course (paid). My parents were very supportive. I was going to know the basic of front-end development and be able to create my own website from scratch by the end of the year!
November 2020
Finally it was the honours presentation day. Did I want to do some final changes a few days before the presentation? No, I did not want to. I believed that what I had was enough. I was prepared mentally and emotionally to present the outcome of my project. I was proud of the work done and thankful to everyone who accompanied me in this journey (not just for this project but also the previous years the led to it). With the few days left and the lockdown being over, it was time for me to have a haircut done by a professional hairdresser. Fortunately the results of my attempt at cutting my own hair at the beginning of the lockdown was no longer noticeable. My honours presentation went well! So happy and relieved!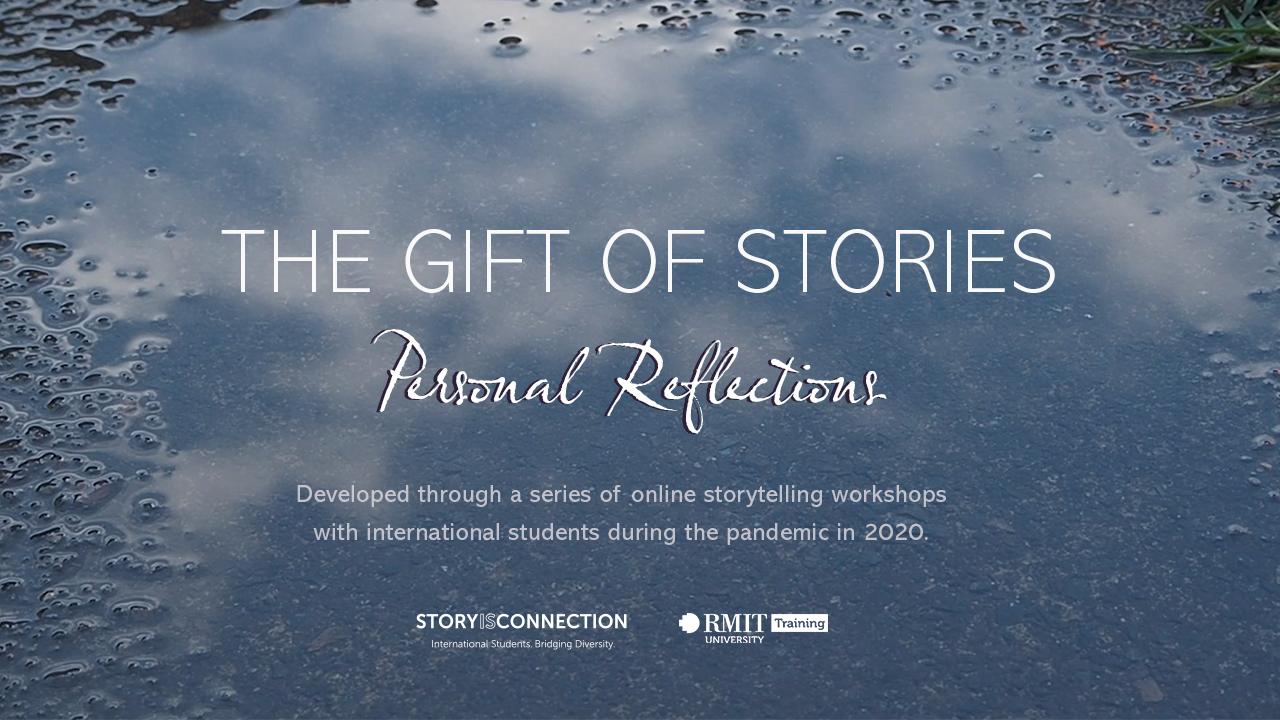 After the Connect! Workshops, SIC was now collaborating with RMIT Training for a new project, The Gift of Stories. The students who participated were very brave to share their personal stories with us. Their dreams, challenges, sadness and hope for the future. A lot of them were not in Australia. Some of them have never been to Australia and their first year experience was online. I really hope that something would be done for all the international students who want to study abroad. I hope a solution would be found. A safe procedure that would not endanger anyone.
Now that more people could gather indoors and outdoors, I was spending some time to catch up (not online) with friends in Melbourne. It was nice to see them outside of the Zoom screen!
December 2020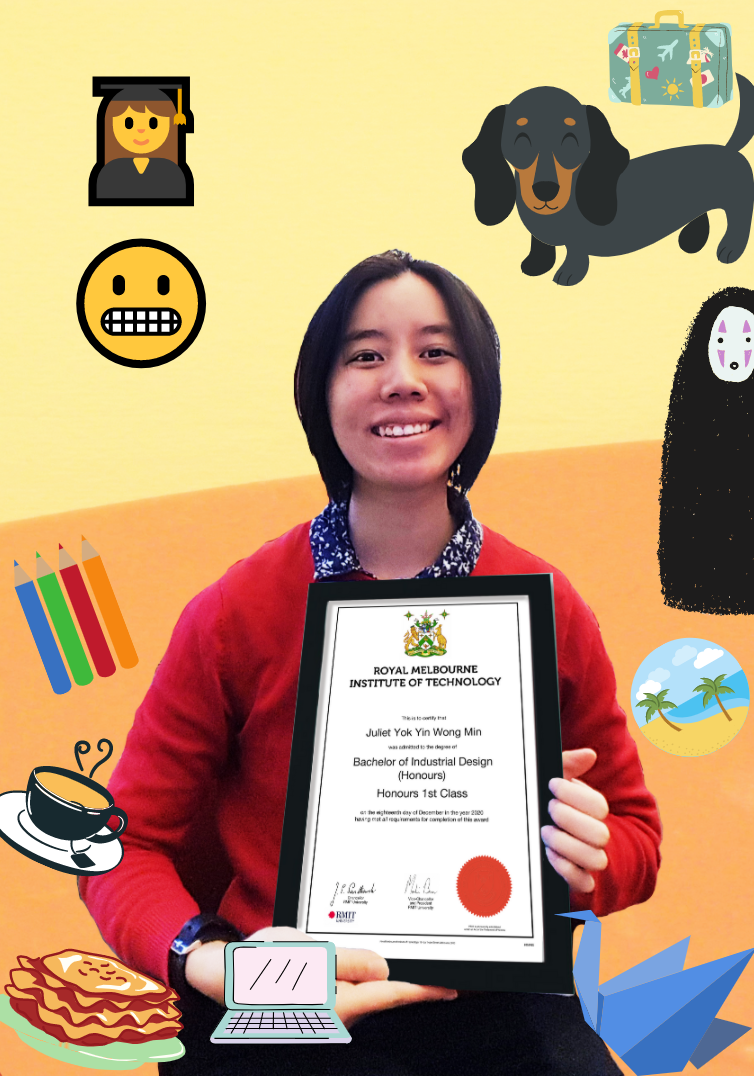 Graduating online was something. Sad that my parents and sisters could not come but at the same time happy I did not have to find new clothes or participate in the RMIT Graduation Parade for my graduation. I could imagine my parents, mostly mother, telling me to consider wearing a dress and/or some makeup for a change. Well maybe there would be another opportunity for them to do so, if I go back to university.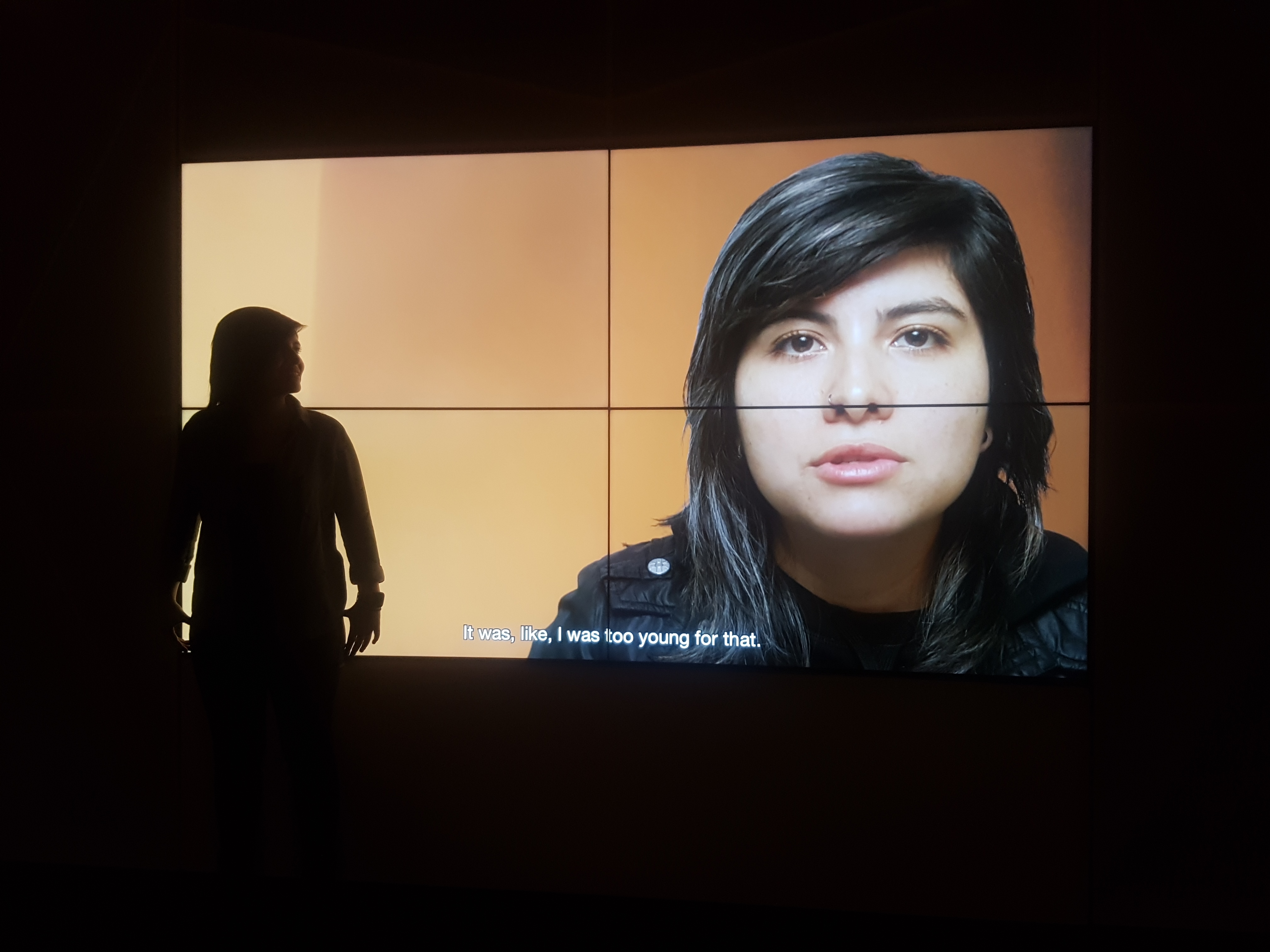 "Forget the Stereotypes", a new installation at the Immigration Museum!! An installation about international students! So proud to see more stories and acknowledgment of international students' contributions!
My visa application was going smoothly, almost too smoothly. At a last step of the application, I discovered that I needed a police check from Mauritius. Seems like the stress was not over for me.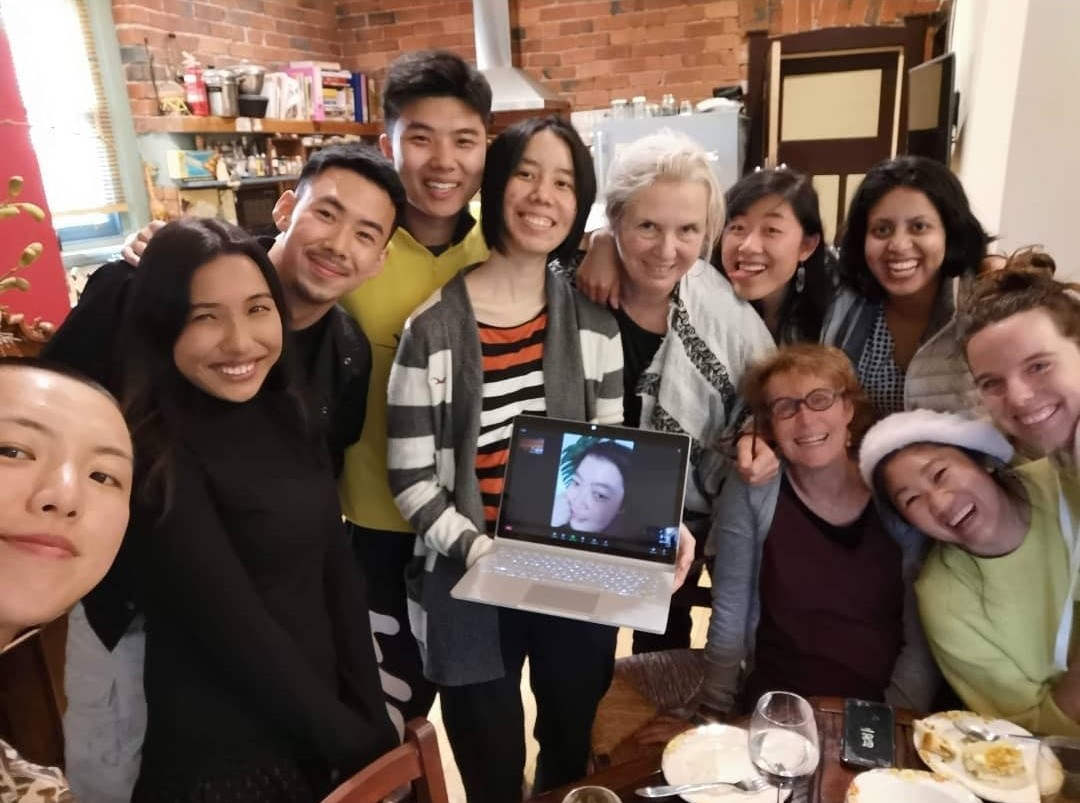 December was filled with catch-ups with people, going out. Was I becoming a social butterfly?
I moved in with my relatives just before Christmas. I am lucky to have them here. With the uncertainty of next year, I thought that it was best not to sign another one year lease. I spent Christmas with the family and New Year with my friends. It was great!
End of recount
While this was quite a long reflection, there are a lot of events and details I did not include. Thank you for reading till the end and I hope you enjoy it! I found that writing some of the key 2020 moments for me was a good way to reflect and not forget the learnings and experiences. To see how I was able to overcome the challenges I encountered and be proud of myself. To be grateful for the support that I have and to cherish them.
2021 will also be a year of uncertainty, challenges and new adventures. Right now (feb 2021) as I am writing this reflection, I am now a full-time job seeker, looking for full-time opportunities to work in the field I studied (Design, especially in Service Design, in case some of you might wonder). I am still freelancing occasionally when a project comes up. Volunteering is still a big part of my life. I'm looking for new ways to help make positive impacts. I have a few projects in mind. I am taking some time as well to rest and recharge. This year would be a year of Boldness for me. To be bold, to be more confident in my own capabilities, to not be afraid to take a leap of faith, to remain true to myself.
Cheers,
Juliet